This baby was one treasure of a find!
See the
trench belt
? Wear it down, wear it tied up or wear it belted. We love the collar just as much, flip it up and button it up for a tall mandarin collar, or push the flaps down.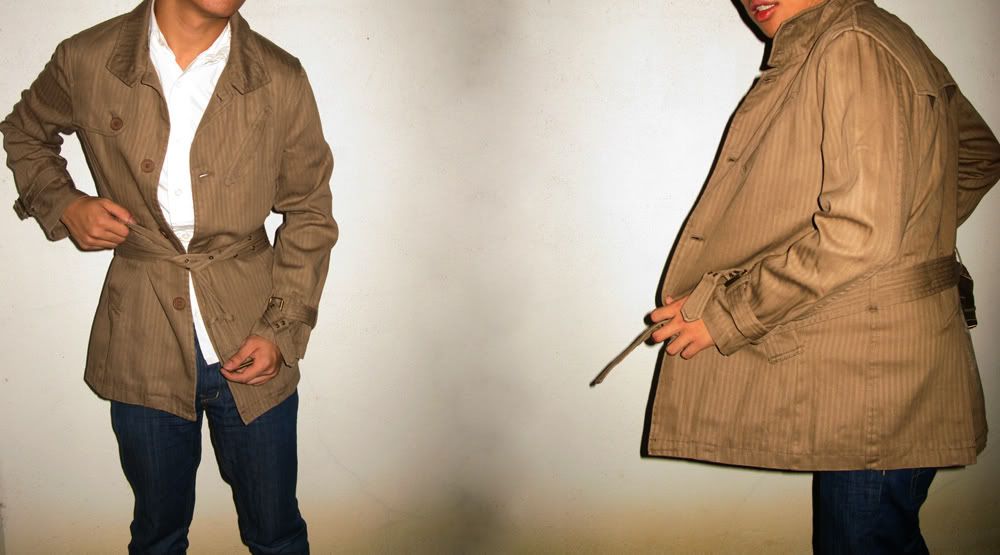 *Click to enlarge!*
Check out the
miniature belts on the cuffs
, and the fact that this jacket is basically a cropped trench coat, where can you find something like this! One the picture on the right, you can catch a glimpse of the "W" shaped back detail. (Mail us if you'd like to see a picture!)
One of the many details we adore: (left, actual colour) the
buttons on the collar
and the a
symmetrical shoulder details
! One side is a flap with a button, and the other has a diagonal pocket. Check out the
close-up of the cuff
on the right picture.
For all those and the fact the cut, colour and design is just the
perfect
thing to have when the weather gets a little chilly, get this trench inspired jacket for a steal price of:
RM79/SGD39
Size S
-
SOLD
(Fits UK size XS to UK size M)
Size M
-
SOLD